Post by Jeremy Nichols on Feb 6, 2013 19:12:55 GMT -5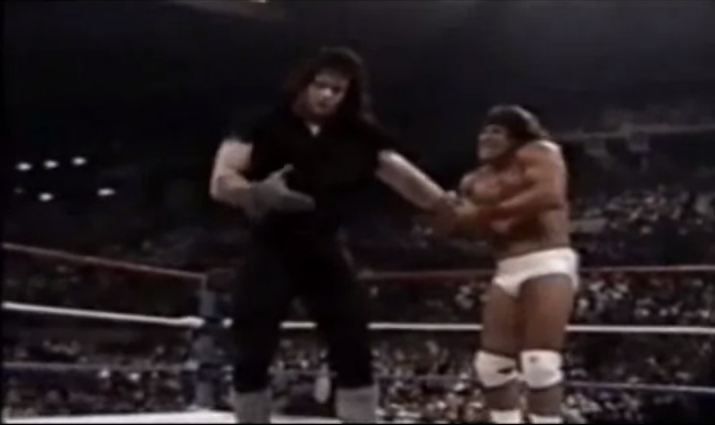 Show:
WWF World Tour 1991
Match:
The Undertaker Vs. Tito Santana
Date:
10/5/91 - Barcelona, Spain
Action:
Here's a match that's going to be very interesting. You have the Deadman, not even in the WWF for a year, facing off against the veteran Tito Santana, who had yet to become El Matador.
Paul leads Taker out to the ring and the commentary is in Spanish, so yeah....not going to get much out of the commentary. You can tell they didn't plan on airing this to American audiences since they didn't have anyone dub this over and there were no WWF graphics used to introduce these guys.
Love Tito's theme music, something so swank and funky about it. Tito is on fucking fire here! The response for Tito is off the charts! Listening to this crowd you could swear Tito was a main eventer. Tito takes his shots early at Taker, rocking him back and forth. Taker was still no selling moves and very robotic, something he'd keep up for another few years. I don't mind this version of Taker, even though overall I'm not a fan.
Tito takes the arm working it over, but he picks the left arm and I'm confused. Why wouldn't he go after the arm Taker hits with? Damn it Tito, think! Taker tries for a comeback but Tito is a step ahead of him and looking good here too. The pace is slowed down here, with Tito taking his time on the arm and Taker trying to mount an offense early on.
Tito is having trouble taking the big guy off his feet. Taker finally takes a clothsline to the outside but lands on his feet still! Tito's right out after him, using the steel steps to give Taker a headache. I'm liking that Tito is the aggressor here, but it's enough to get him in trouble as Taker uses the ropes to clothesline Tito. Now the Deadman is taking over, chops to the throat and choking him on the middle rope follow.
Tito started out like a house of fire but now Taker is in control, walking the top rope and coming down hard with a right hand on Tito's back. Tito tries for a body slam but Taker is too heavy and Taker goes back to choking Santana while Bearer stands outside making weird faces and sounds.
The crowd is chanting something, most likely for Tito to get up, and he's trying to make a comeback but it gets stopped short by Taker who blatantly chokes the crap out of Tito before throwing him to the ground. Taker is stalking his prey here, wasting time in my opinion. Taker hits a high arch body slam and goes for an elbow but misses. Something I've noticed about Taker's early matches, when he goes for the elbow, he's gonna miss.
Taker tries to walk the rope again but Tito pulls him down, and now is stick and moving on him. Rights and lefts, and finally the flying forearm! And a second forearm! Taker is still standing! A third attempt results in the ref getting pulled in front and taking the hit. Taker comes back stomping away at Tito and the ref is down.
Taker hits a sidewalk slam and Paul throws the bodybag in, but this match isn't over! Taker tries to put Tito in the bag, meanwhile the ref is still down. The fans are screaming "TITO!" and Taker is getting him in the bag here slowly but surely.
Tito starts firing back with his free arm, and he's rocking Taker with those lefts! Tito fights up and out of the bodybag! The two are trading shots as the ref gets back to his feet. Tito hits a piledriver on Taker but it's not enough! A second piledriver, but Taker sits back up! A third piledriver! Taker isn't able to sit up after that! Bearer on the apron with the Urn, Tito takes the Urn, smashes Taker in the face with it, covers and the ref is slowly over 1.....2......3!
Winner: Tito Santana!
Taker leaves the ring and as Tito celebrates a hard fought victory.
Grade: 3/5Closing Thoughts:
Giving this one a good three out of five here. They worked a slower pace at the beginning, and I liked that Tito was the agressor early on. Taker took two of Santana's best shots in the forearm, and then three piledrivers and still got up! Tito getting the win was a big upset, and you know they didn't intend on showing this to anyone since Taker would head into the Survivor Series the following month and beat Hogan for the belt while being undefeated. Nice little hidden gem here.